Expanded Resource Ordering Coordinator Roster
EROC changes at 0800 every Tuesday morning.
The name on the roster is the primary EROC for one week from the date shown.  If the person is unable to fulfill his/her EROC duties at any time during their time 'up' then they are responsible for contacting another qualified person to ensure they are prepared to respond to a page.
It may be useful to have additional qualified people to assist the EROC, at the EOC or at the incident.  These positions are not rostered.  Other qualified people can make themselves available, if possible, when contacted by the EROC.
BC Brenda Rodgers is in a Backup Role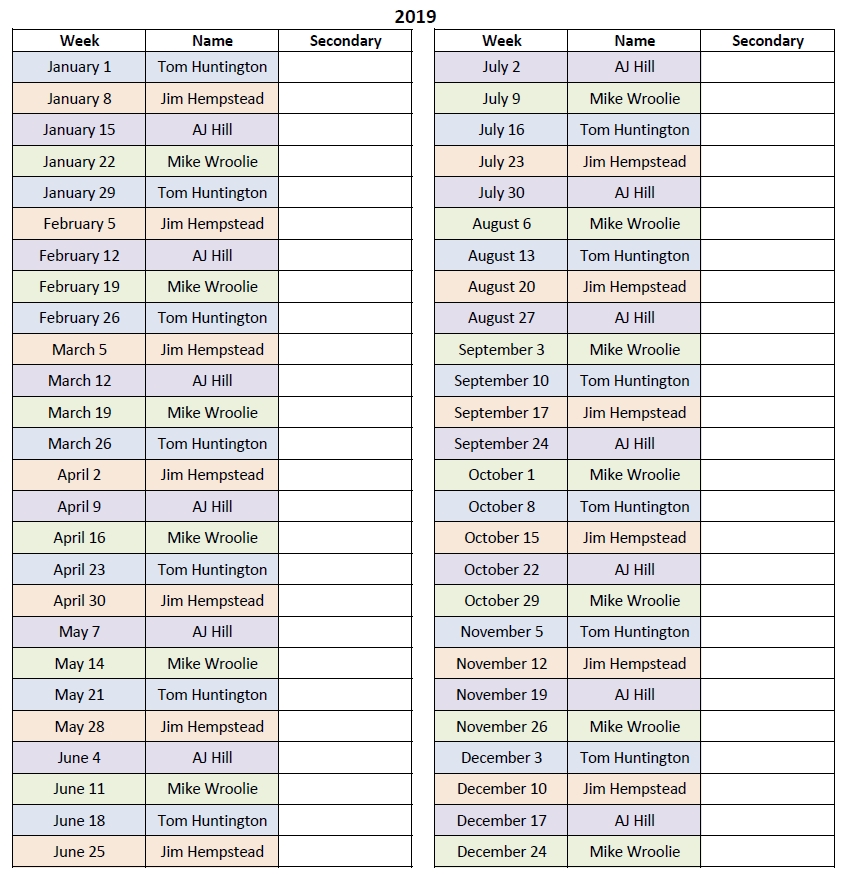 | | | |
| --- | --- | --- |
| AJ Hill | | 509.521.0852 |
| James Hempstead | | 509.578.9316 |
| Tom Huntington | | 509.578.9313 |
| Mike Wroolie | | 509.578.8101 |
| . | | |
| Brenda Rodgers | | 509.578.9318 |
| . | | |
| Randy Aust | | 509.578.9317 |
| Vince Beasley | | 509.820.0460 |
| Ed Dunbar | | 509.380.8552 |
| Seth Johnson | | 509.830.9532 |
| Tod Kreutz | | 509.948.0157 |
| Scott LoParco | | 509.430.1606 |
| Eric Nilson | | 509.572.5086 |